ABOUT AINGEALA DE BÚRCA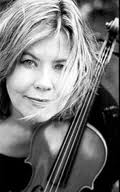 I am a violinist and baroque violinist, with a BA degree in Music from Trinity College Dublin, an MA in Music Performance from the University of Limerick, and a Post-Graduate Diploma in Music Therapy from the Royal Welsh College of Music. I am currently based in Stockholm, Sweden.
In 2002, I began my study of the Alexander Technique with Don Weed of the Interactive Teaching Method (ITM). This has included a four-year teacher-training course to become a teacher in 2007 and an additional four years of training to become a trainer of ITM Alexander Technique teachers in 2016.
I now combine teaching the Alexander Technique with my career as a musician. In my private practice I teach individuals and groups, give workshops, teach short courses and I have responsibility for the training of six ITM Alexander Technique teacher trainees who are all currently enrolled on the ITM four-year training cycle.